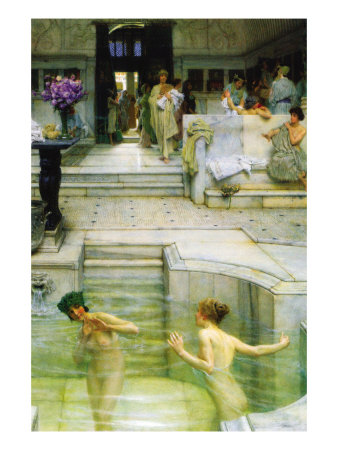 Sometimes the synergy between your everyday life and your travel life brings nice surprises.  While renovating my bathroom I came across a tiled mural of an ancient Roman spa by the wonderful 19th century British artist, Sir Lawrence Alma-Tadema.  It evoked the romance of the ancient Romans as barely-clad people lounged in the terme.  It was the Baths at Caracalla in Rome.
Who knew?  You could still visit the ancient spa in Rome.  The site is in the heart of the Eternal City but still off the beaten path just enough to keep hoards of tourists from flocking there.
The Baths at Caracalla are massive, taking up 33 acres just to the east of Circo Massimo (less than a 10 minute walk).  The free baths were the second largest in ancient Rome and were free of charge to people of all classes.  Libraries, gyms, hot and cold pools, all lined in marble and semi-precious stones.  I found myself staring at the floor imagining that toga-clad men and women traversed these same tiled pathways.
Upon entering I was overwhelmed by the towering ruins which reach into the skies, making you realize just how small you are in the grand scheme of life.  You stroll from the natatio a swimming pool, where mosaics still line the floors and imagine the bronze mirrors mounted overhead to usher sunlight to bathers below.
It is an architectural and engineering marvel.  And while the baths haven't been as used a spa in nearly 2,000 years, today they host summer concerts and cultural events where you can still enjoy a night under the stars in beautiful Rome.
TOURIST TIP:  Plan on at least three hours to fully explore the baths and the underground mini-museum.  Bring a picnic if it's a nice day.  There's plenty of green space.  Most of the larger statues were recovered by the noble Faranese family and now sit in Naples at the Archaeological museum there, another treat.  Tickets are €6 for adults and free for kids 17 and under.  The nearest Metro stop is Linea B – Circo Massimo.