Picture it – it's the 21st century but you have traveled back 500 years to the days of jousting and chivalry, castles and fairy-tales, and dark tales of the seamy side of medieval life.  It's modern day Edinburgh, the capital city of Scotland, a position it has held since 1437.  The city's friendly locals and ancient sites make it the perfect place for solo travelers.
As you walk through downtown Edinburgh, you can't help but be awestruck by the magical castle on the hill.  It seems both out of place yet right at home amid the hustle and bustle of modern life in Scotland.  The locals just go about their business as if this wondrous site is but another building. However, it's omnipresent and can be seen from nearly every nook and crannie of this northern city.
Be prepared to walk…a lot.  Edinburgh is a walking city and there are plenty of hills.  The main tourist route is the Royal Mile, a long, long hill which links the Castle at the top to Holyrood Abbey at the bottom.
You can try starting the day at the castle;  then start a leisurely stroll down the Royal Mile, stopping midway for lunch, before sauntering to the bottom to visit Holyrood.  But don't forget, you still have to walk back, all uphill!
The main shopping drag is Princes Street and there are plenty of shops everywhere.  My favorite British department stores like Marks and Spencer, Debenhams and John Lewis all have stores in Edinburgh minus the crowds of Oxford Street in London.  There are also plenty of craft and gift boutiques to bolster the economy.  And after shopping till you drop, Edinburgh has numerous restaurants and pubs. You must go in for a pint or a soda.  The Scottish people are some of the friendliest and warmest I have ever met around the world and you will not feel out of place, even if you are flying solo.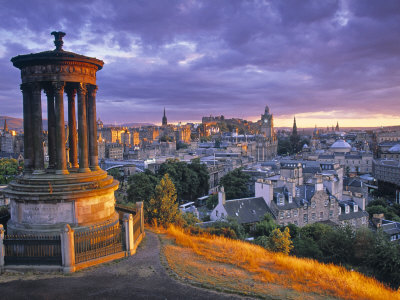 Stewart Monument, Calton Hill, Edinbu…
Doug Pearson
One of the tourist must-do activities is a haunted ghost tour of the underground city.  In medieval times, Edinburgh was a walled city of only one square mile.  It became overpopulated and was forced to build down, underground. It housed its citizens in vaulted rooms, as small as 10′ square and when the plague hit, city officials would seal off entire levels, trapping people in their permanent tombs. It's a fun night out and you should reserve the latest time-slot to add to the haunted, spooky flavor of the night. It generally ends with a pub crawl.
One of the best things about visiting Edinburgh late in the summer season (besides a lack of tourists) is that the days last longer. Due to the city's northern latitude, it doesn't get dark and you can find yourself walking the streets at 10pm in near daylight. The hotels offer room darkening drapes for that reason.
Let our travel concierge help you plan a