This Mother's Day, I am away from my Mom and in the homeland of my Grandma, here in Italy, where it's all about mamma. Escaping city life and its stress is needed every now and then but it's always important to remember your roots. For my Sicilian Nonna, she firmly planted hers some 50+ years ago just north of NYC, in Dutchess and Columbia Counties.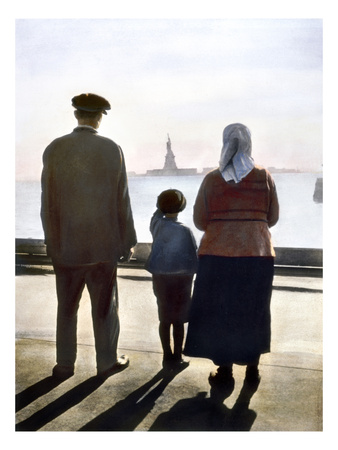 Immigrants: Ellis Island
My grandmother's adventure began in 1915, aboard the Santa Ana, across the ocean, in Palermo, Sicily.  Back then, Sicily and New York were more than worlds apart geographically. Olive groves and rustic hillsides yielded to the hustle and bustle of New York's burgeoning immigrant population.  So, you could bet your cannoli that Letty would seek out the greener pastures of New York's Hudson Valley at her earliest chance. A marriage and four children later and Nonna headed due north to Clermont, here Papa Ciccio built their dream home, the family's dream home. It became as much a part of my soul as the woman who nurtured my spirit.
I would like to think that I get a lot of my strength and independence from my Nonna. She wandered and bought her own piece of paradise with her grocery money, unbeknown to Papa Ciccio. Columbia County offered her an idyllic getaway from city life. Letty's wanderlust spirit didn't find just any lot. It was the perfect lot, two-and-a-half acres, on a rolling hill overlooking the Hudson River, with sweeping vistas of the Catskill Mountains. Olana, Frederic Church's home, was just down the road, so you know the lot was literally picture perfect.
More grocery money later and plans were ordered, right out of the Sears catalog. You could do that in those days. Papa Ciccio built her the house in record time. He supervised while Nonna cooked and waited….and cooked and waited, ancora. What Sicilians can't pay in wages, they will pay a hundredfold in food. There was just one minor problem – they couldn't find any water on the property and Papa would never let us forget that they had to dig 300 feet before hitting a sulfur spring.
As the first born grandchild of a Sicilian family I got everything first but the first taste of that water was enough to knock your socks off. It smelled like rotten eggs and was hardly thirst-quenching on a hot summer day. I could barely brush my teeth in it, let alone drink it. Papa, on the other hand, insisted it was potable, if not for any other reason than to justify the cost of a 300-foot well. But by the time I was into primping, maybe six, maybe seven-years-old, I swear that water developed magical powers – my hair was like velvet.
This was Nonna's house from the slipcovers she sewed to the quilts she made from Papa's old ties. Her mark was everywhere, right down to the old wagon wheels she painted at the bottom of the long and winding driveway. The driveway was just perfect for sledding or taking showers outside in a heavy summer rain.
The living room was enormous, cavernous for impromptu concerts or dance recitals with my cousins. They call these "great rooms" nowadays and that it was. It was just large enough to host family holidays and cozy enough to make you feel like nothing outside its soothing walls could ever hurt you.
This was the country house. This was where we city kids got to buy eggs at the local farm and where drive-in theaters meant a double and sometimes a triple header in the back of Nonna's station wagon (predecessor to the SUV). It's where we went for ice-cream right at the dairy where they milked the cows. It's where The Roosevelts and The Vanderbilts had lived down the road in Hyde Park, just a few years earlier, and where The Livingstons were still neighbors.
Cool mornings carried the romantic scent of lilacs from my great-grandfather's bush through the entire house. It was just outside the rear bedrooms and the perfect place to curl up for a nap. Something about that house just made you relax, whether it was the scent of lilacs, the absolute tranquility, Nonna's love and warmth, or the perfect combination of all of those things.
The American flag, which flew proudly atop a 25 foot pole, was a symbol of much more than a country, but of how hard my grandparents and great-grandparents had worked to succeed in their new country.
Yet, things change. Now we buy our milk at a supermarket and the drive-ins are all but gone (except for the one in Hyde Park, believe it or not?)…..and so, sadly are my grandparents.
I am lucky in that Nonna lives in my heart and my soul – I am her as much as I am my mother. Even my great-grandfather's lilac bush is still with me – clippings now flourish in my yard. I may not remember the day I arrived at the country house for the first time but I'll never forget the day we left. Mom and I drove down the long, winding driveway, "Bye-bye country house, see you next time." We took the best part of her in our hearts.